Application
JB-106AS is a complete new designed machine developed by us with 3 patents for invention, 5 patents for utility models. Running at full sheet size with quality guaranteed, top speed can reach 5000 s/h. Running at customized size, speed can go up-to 5500s/h. It is an unique machine for packaging printing, decal printing, textile and legend printing. For further information, please contact us or local sales representative.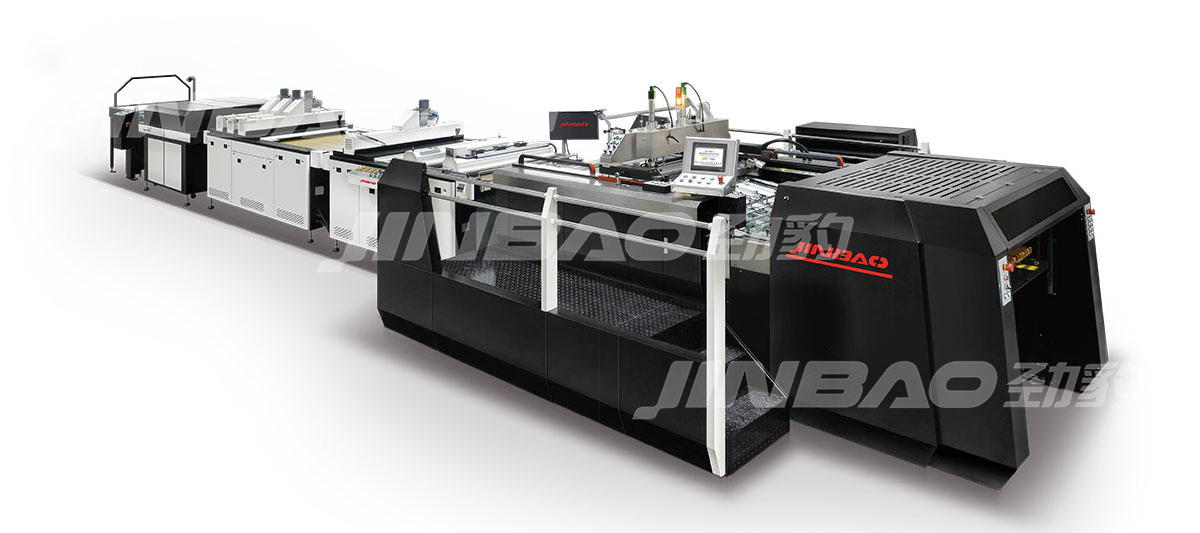 Technical parameters
| | | |
| --- | --- | --- |
| Model | JB-106AS | JB-90AS |
| Max.sheet size | 1060×750mm2 | 900×600mm2 |
| Min. sheet size | 560×350mm2 | 350×270mm2 |
| Max.printing size | 1050× 750mm2 | 900×590mm2 |
| Screen frame size | 1300×1170mm2 | 1140×1140mm2 |
| Sheet thickness | 90-500 g/m2 | 108-500 g/m2 |
| Border | ≤10mm | ≤10mm |
| Printing Speed | 800-5000 sheet/h | 800-5000 sheet/h |
| Installation power | 3P 380V 50Hz 24.3Kw | 3P 380V 50Hz 24.3Kw |
| Weight | 4600kg | 3600kg |
| Overall size | 4850×4220×2050mm | 4550×4220×2050mm |
Partial features
1. Paper feeding feeder:
offset Feida head, higher speed, reliability and stability.
It has strong adaptability to the thickness of printed parts, and ensures smooth paper feeding at high speed;
The paper feeder can choose by itself and switch single sheet or laminated paper by one button.
2. Paper feeding table:
The stainless steel paper feeding table can effectively prevent the back of substrate from being scratched, and reduce the static friction between the table and substrate;
With vacuum adsorption at the bottom of the table, with the structure of pushing paper and pressing paper on the table, to ensure the smooth transportation of various materials;
When a single sheet of paper is fed, the conveyor belt slows down at the right time to ensure that the substrate is stable and in place at high speed.
3. Pneumatic side gauge:
The downward suction vacuum side pull gauge will not cause white and dirty paper and text marks;
One body variable push gauge type, one key switch, start and control push gauge pull gauge conversion;
Push pull positioning is accurate, positioning stroke is long, positioning speed is fast, and adjustment is convenient. The photoelectric detection system can monitor the position of printed parts in real time and reduce the rate of printing waste.
4. Shaftless system:
traditional single power source of main drive with multiple drive modes
Using synchronous drive technology, the transmission shaft, gearbox and other mechanical devices are removed, and multiple servo motors are used to follow the virtual electronic spindle. A large number of mechanical transmission parts have been eliminated.
Noise reduction: the traditional main shaft and gearbox are discarded, the moving parts are reduced, the mechanical structure is simplified, and the components generating mechanical vibration are reduced, so the noise is greatly reduced in the operation process.
5. Heavy pneumatic scraping system:
comprehensive application of electrical, pneumatic, hydraulic technology, automatic control of scraping action;
Start and end points can be set independently;
The whole process pressure is balanced and stable;
After grinding the scraper or replacing it with a new one, press one key to set and restore the previous printing pressure position;
It completely eliminates the disadvantages of cam mechanical control of squeegee action, and ensures that the ink layer and clarity of the image are stable under any printing volume and printing speed.
6. Screen separation function:
The screen is separated by electric control to expose the whole conveying table and roller, so as to facilitate the registration of printing parts and the adjustment of feeding materials; at the same time, the cleaning of roller and screen is safer and faster;
7. Electric screen fine-tuning system, remote electric screen three-axis adjustment, direct input adjustment stroke, one step adjustment in place, convenient and practical.
8. Automatic oiling and lubricating system can reduce chain pulling and noise, and ensure operation accuracy and stability
JB-106AS Automatic Servo Motor Control Screen Printing Machine For Spot UV Video
If you have any enquiry about quotation or cooperation, please feel free to email us jbprint@cn-jinbao.com or use thefollowing enquiry form. Our sales representative will contact you within 24 hours. Thank you for your interest in our products